Walking the sacred Path
VISION QUEST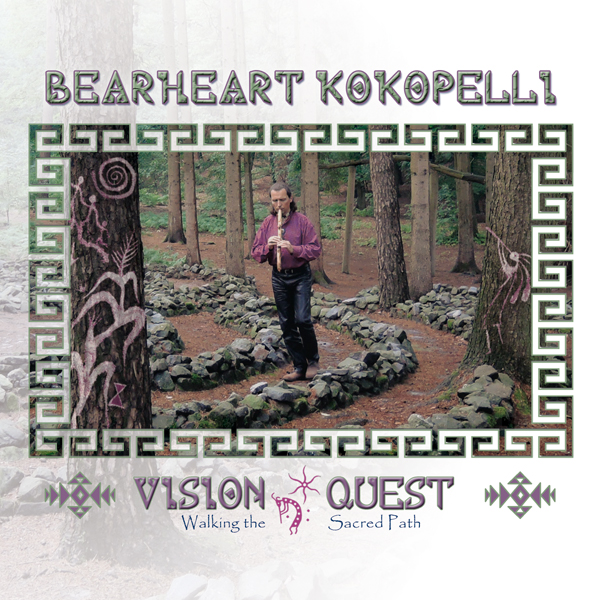 DOWNLOAD Digital Album
Where do we come from? Where do we go? What is the purpose of life? These main questions of human life evoke a feeling of a masterplan of existence and we realize: Every life form is a sacred part of the vast mystery, that surrounds us and breathes through us.
Ancient human cultures of all continents and nations have found symbols in order to contemplate over these essential questions and to get an idea of the cyclical and polar nature of our existance in this universe and what lies beyond. One of these symbols is the labyrinth of life and we realize: In all of our life we follow a sacred path guided by our vision of what we are and what we want to be.
But it is not just symbols that meet and guide us on our journey through life, as it is the path itself, with its straight lines, curves, breaks, byways, ramifications, with the loss and new finding of its trace in the unknown, that lets us mature.
On our journey through life we need pauses to rest, to look around and step out of everyday life, to turn inward and get in contact with ourselves, with the spiritual world and the otherworld at a place in nature, offside from the human civilization field, in order to get answers to our questions through fasting for several days. This is the vision quest, "The plea for a face," as it is called by Native Americans.
In the haunting sound of the Native American Flute we hear the mystery of life resounding beautifully. It is a powerful tool that balances our breath, whose wonderful sound brings us to inner peace and connects us to the harmonic vibrations of creation. Through her chanting we come into contact with the themes of our lives on a non-verbal level of existance and find insight and peace in harmony with our native heart, that carries all wisdom within itself.
+++ ORDER YOUR VISION QUEST CD SIGNED VIA THE "BUY NOW" PAYPAL BUTTON +++